Happy New Year!!
Every year I review my current watchlist, to ensure that the businesses that I decided to partner with still meet my goals.  This exercise has nothing to do with stock price performance. A decision to invest in these businesses (buy at sound valuation) or to wait and let important scenarios unfold before the next decision (hold) or to decide to cease the partnership (sell) should be solely considering the business itself, by evaluating if it still possess the ability to meet my original goals – and that's based on the company's operating performance, not on how the stock has performed.
My dividend growth investing portfolio has a mix of companies with a history of growing dividends mixed with companies that don't grow dividends (but it pays one) which then I expect a decent capital appreciation, mixed with companies with a higher yield, which many times carries more risk than a conservative portfolio.  Therefore, it's expected that some of these companies might not perform well overtime or might come to a point that it won't meet my goals any longer. At the same time, my complete portfolio also contains short term investing / trading strategies, which drives returns based on growth or income and have been able to nicely complement the dividend portfolio for the long run.  Therefore, I believe that I can now improve the portfolio overall by reducing the exposure of the companies that are carrying more risk.
Companies that no longer meet my goals for 2020:
4 companies on my Canadian DGI Portfolio were removed for 2020. Three companies reduced dividends and another was acquired, where it was disclosed that they will no longer pay dividends.
Industrials:
MAXR:  MAXR had many execution issues during as a result of their merge and ended up cutting dividends by 94% to 1 cent. That business no longer meet my objective of income growth. The decision to sell is the hardest one: in the past I used to wait for the business to recover, considering that the price reaction when these measures are announced typically go below the intrinsic value of the business. However, overtime I've seen that it carries a high opportunity cost, and not always the recovery pans out. A good example is GE or C. So for some time now I've decided that as soon as there is a dividend cut (which directly affects why I bought that business in first place) , I would be consistent in the approach to move on and apply whatever is left of that position into something else that meets my goals. It also helps that I no longer need to track progress of a business that was struggling to recover. A good strategy should provide a decent total return for the entire portfolio, so that we could comfortably move on from a business that no longer meet our goals. The same applies if fundamentals suddenly deteriorate, such as credit rating downgraded below investment grade or cash flow showing structural flaws (borrowing money to pay dividends) or management not acknowledging operating results challenges and having a plan to address it. Sometimes, in hindsight, we'll see that waiting was the best course of action, and selling MAXR now (or simply waiting) would be a better decision. But we didn't know that at the time. We need to be consistent and not emotional with the plan regarding when to sell when such events take place. On my case, I can tolerate some earnings or cash flow drop, but not dividend drop. Hence my decision to sell immediately after a cut and move on.
Consumer Discretionary:
CGX: U.K.-based Cineworld Group has announced a C$2.8-billion friendly takeover of Cineplex Inc, and management disclosed that if approved, Cineplex wouldn't pay dividends after March 2020. 
Financial:
CIX: CI Financial reduced dividends in 2018, so in order to be consistent with the approach to move on when dividends are cut, I'm also selling CIX. The industry in which they operate is struggling.  
Consumer Staples:
LAS.A: Lassonde Industries reduced their dividends in 2019, so following the same approach to other companies that reduced dividends, LAS.A is no longer on my list. I never had a chance to buy it, since it's been overvalued since 2015. Price came down to fair valuation, but estimates were still flat or down. Just recently it has improved, but with a posted lower dividends. 
.-.-.-.-.-.-.-.-.-.-.-.-.-.-.-.-.-.-.-.-.-.-.-.-.-.-.-.-.-.-.-.-.-.-.-.-.-.-.-.-.-.-.-.-.-.-.-.-.-.-.-.-.-.-.-.-.-.-.-.-.-.-.-.-.-.-.-.-.-.-.-.-.-.-.-.-.-.-.-.-.-.-.-.-.-.-.
Companies that I decided to partner with:
 No new companies were added on the dividend growth investing Canadian Portfolio. The Canadian portfolio has now  60 companies.
The companies that I bought this month:
I purchase the companies from my watchlist when price is attractive, which is a process taking valuation (not price alone) into account. The watchlist speaks to "what" to buy.  The valuation process speaks to "when" to buy.
For this month, I purchased the following companies.  My last purchase was in October, and I typically save $2,000 per month, so that allowed me to save $6,000.  Plus, I will be reinvesting the proceeds from Cineplex ($3,892.75). Plus, I will be reinvesting the dividends from 2019 ($4,701.23), which will give me a total of $14,593.98 to be invested this month.  
I chose 14 companies to add or start new positions, so I'll be allocating $1,042 for each company.  The investing performance spreadsheet has been updated accordingly, including the information related to the companies that increased dividends so far this year.
Below are the valuation charts with their estimated growth for each company, as well as a description of each business. In my opinion these companies are fairly valued and estimated grow, but each investor should do their diligence to validate that the company meets their goals and that the company is fairly valued according to their criteria. 
It's important to note that the graphs below are just a part of the required diligence prior to start or add positions. Due to the number of companies posted today I won't be able to go in details to why I'm adding them, but the additional information that I gathered matches the graph which suggests that these companies are attractively priced today.
Constellation Software Inc., together with its subsidiaries, engages in the development, installation, and customization of software to various markets in the United States, Canada, the United Kingdom, Europe, and internationally. It operates through two segments, Public Sector and Private Sector. The Public Sector segment develops and distributes software solutions primarily to government and government-related customers. The Private Sector segment develops and distributes software solutions, principally to commercial customers. The company also provides related professional and support services. Constellation Software Inc. was founded in 1995 and is headquartered in Toronto, Canada.
Please note that the dividend curve below looks skewed due to the special dividend of $20 / share declared recently.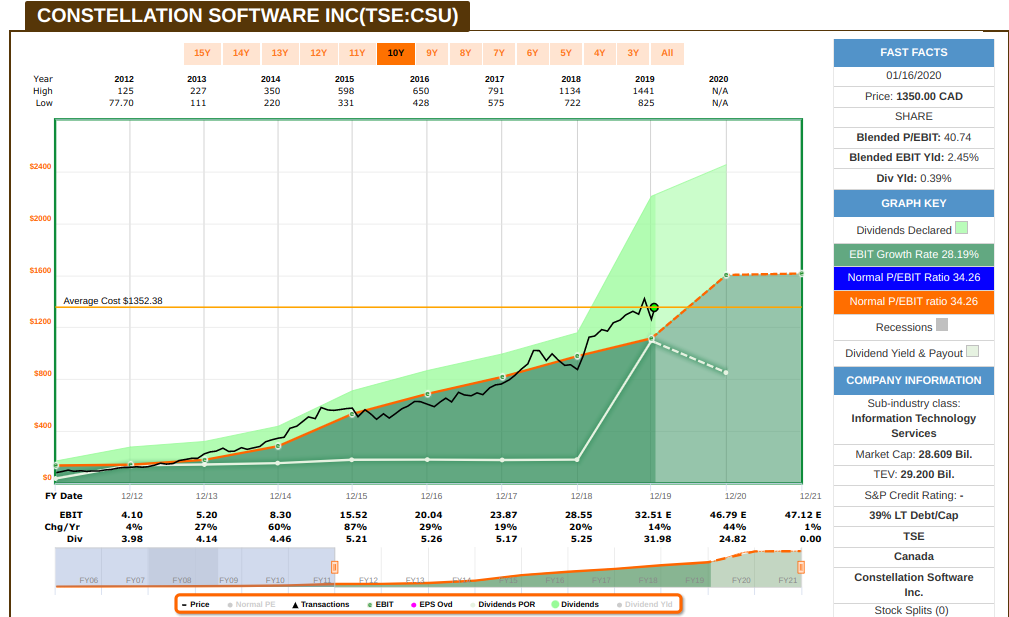 Canadian Tire Corporation, Limited provides a range of retail goods and services in Canada. The company operates through three segments: Retail, CT REIT, and Financial Services. The Retail segment retails general merchandise, apparel, footwear, sporting equipment, gasoline, sporting goods and active wear, and workwear under the Canadian Tire, SportChek, Sports Experts, National Sports, Pro Hockey Life, Atmosphere, Mark's, PartSource, Gas+, and Helly Hansen banners. This segment also participates in loyalty programs, as well as sells its products online. The CT REIT segment operates as a closed-end real estate investment trust that holds a portfolio of properties comprising Canadian Tire stores, Canadian Tire anchored retail developments, mixed-use commercial property, and distribution centers. The Financial Services segment provides financial and other ancillary products and services, including credit cards, in-store financing, insurance products, and retail and broker deposits; and savings accounts and guaranteed investment certificates. The company was founded in 1922 and is headquartered in Toronto, Canada.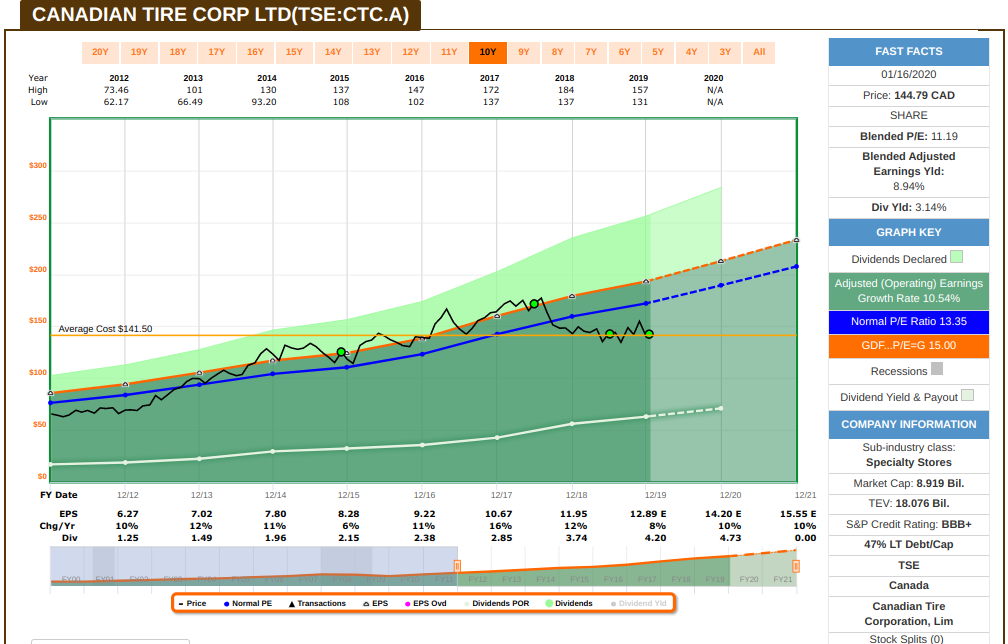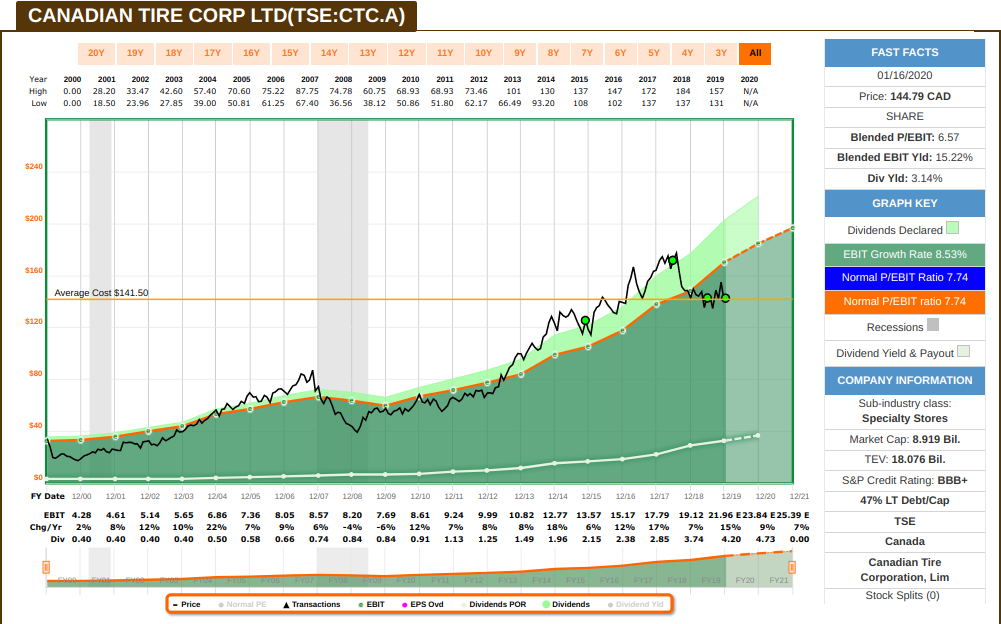 Canadian Western Bank provides personal and business banking products and services primarily in Western Canada. The company offers current, savings, cash management, US dollar, senior, chequing, youth, and student accounts, as well as specialized accounts, including corporate and commercial, organization, strata solution/condo, general trust, and trust fund investment accounts. It also provides leading products, such as commercial lending and real estate, and equipment financing and leasing products; loans and mortgages; secured and unsecured lines of credit; registered retirement savings plan (RRSP), consolidation, vehicle, and recreation vehicle loans; personal lines of credit; and credit cards. In addition, the company offers cash management services; life and disability insurance products, home equity lines of credit, personal lines of credit, and business lines of credit; and ATM, telephone, mobile, and online banking services, as well as deposit register and cheque order services. Further, it provides investment products comprising guaranteed investment certificates, RRSPs, registered retirement income funds, tax-free savings accounts, registered education savings plans, and mutual funds, as well as personal and business planning services. The company was founded in 1984 and is headquartered in Edmonton, Canada.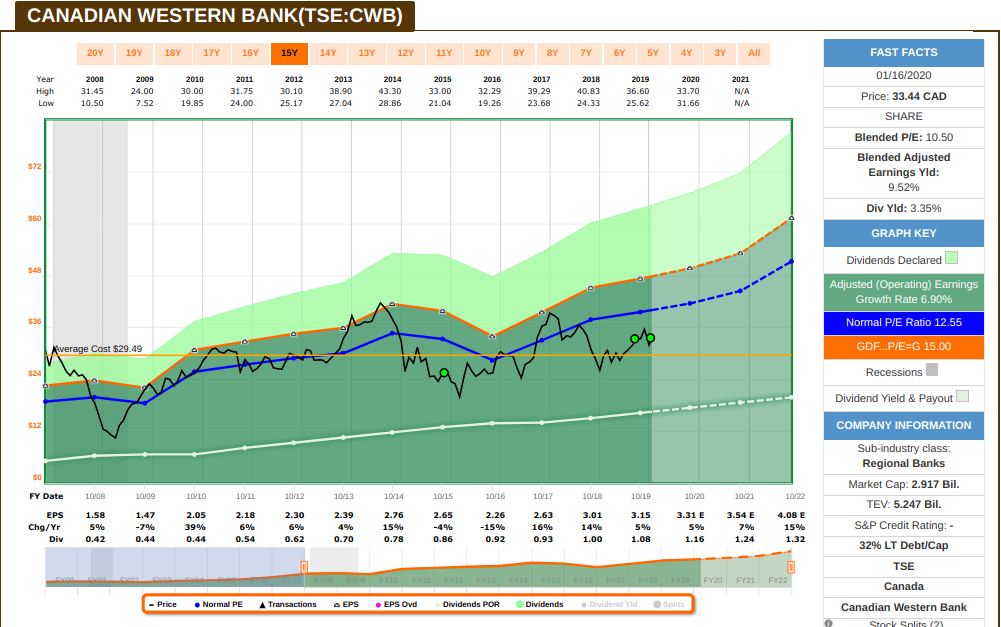 Exchange Income Corporation engages in aerospace and aviation services and equipment, and manufacturing businesses worldwide. It operates through two segments, Aerospace & Aviation, and Manufacturing. The Aerospace & Aviation segment offers scheduled airline and charter services, and emergency medical services to communities located in Manitoba, Ontario, and Nunavut, as well as Newfoundland and Labrador, Quebec, New Brunswick, and Nova Scotia. It also provides after-market aircraft, engines, and component parts to regional airline operators; designs, modifies, maintains, and operates custom sensor equipped aircraft; and offers maritime surveillance and support services in Canada, the Caribbean, and the Middle East. In addition, this segment provides a range of pilot flight training services. The Manufacturing segment manufactures window wall systems primarily used in high-rise multi-family residential projects; stainless steel tanks, vessels, and processing equipment; heavy duty pressure washing and steam systems, commercial water recycling systems, and custom tanks for the transportation of oil, gasoline, and water products; precision parts and components primarily used in the aerospace and defense sectors; and precision sheet metal and tubular products. This segment also focuses on the engineering, design, manufacture, and construction of communication infrastructure, as well as provision of technical services. Exchange Income Corporation is based in Winnipeg, Canada.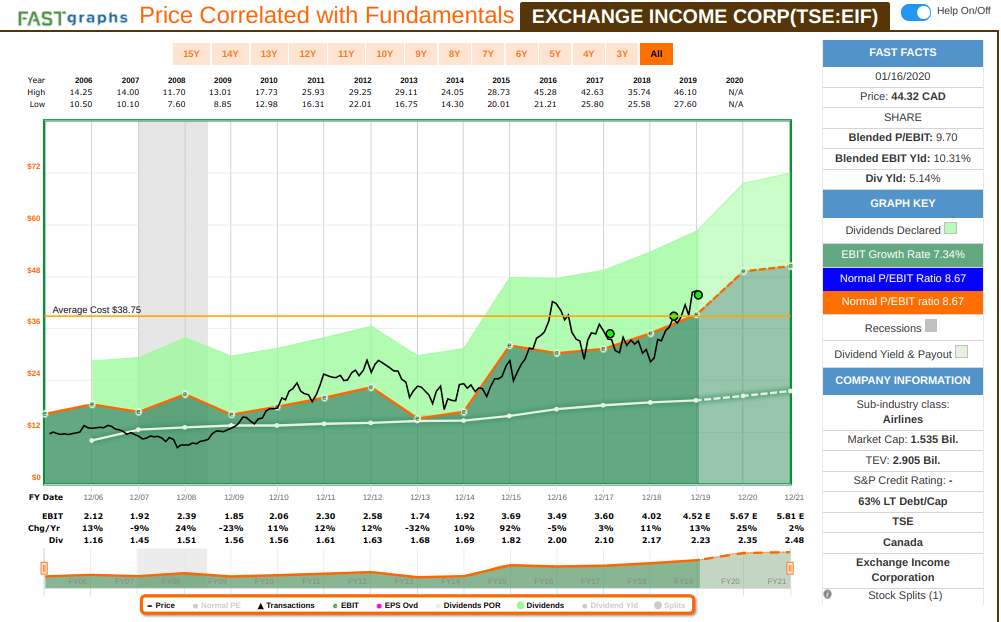 Empire Company Limited, together with its subsidiaries, engages in the food retail and related real estate businesses in Canada. It operates through two segments, Food Retailing, and Investments and Other Operations. The company owns, affiliates, and franchises approximately 1,500 retail stores under various retail banners, including Sobeys, Safeway, IGA, Foodland, FreshCo, Thrifty Foods, Farm Boy, and Lawtons Drugs; and approximately 350 retail fuel locations. It also owns interest in Crombie Real Estate Investment Trust, an open-ended Canadian real estate investment trust to own, operate, and develop a portfolio of grocery and drug store anchored shopping centers, freestanding stores, and mixed use developments; and various equity accounted interests in Genstar real estate partnerships that develop residential real estate properties in Ontario, Western Canada, and the United States. The company was founded in 1907 and is headquartered in Stellarton, Canada.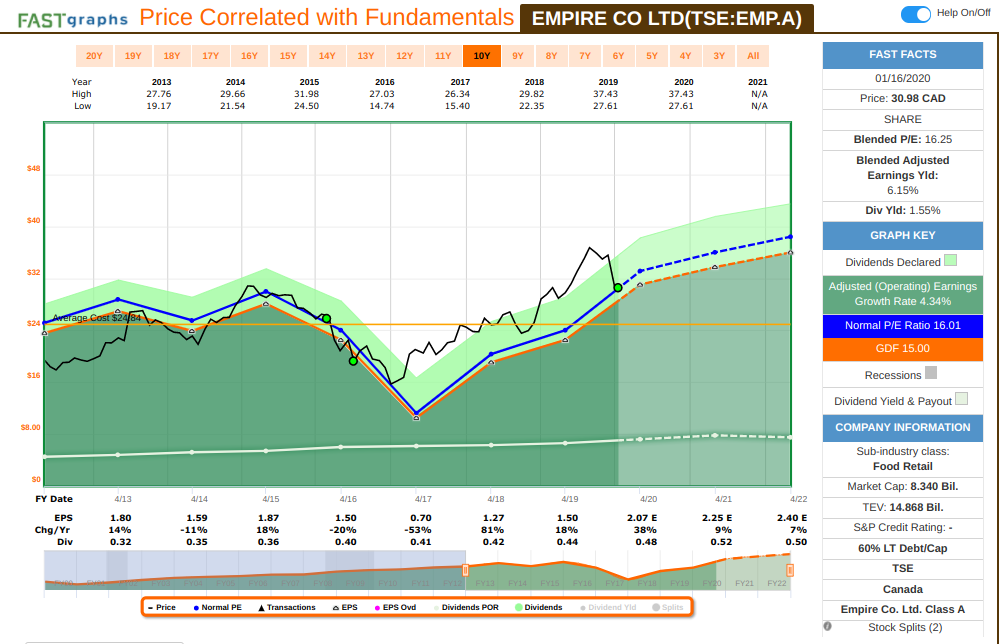 Enbridge Inc. operates as an energy infrastructure company in Canada and the United States. The company operates through five segments: Liquids Pipelines, Gas Transmission and Midstream, Gas Distribution, Green Power and Transmission, and Energy Services. The Liquids Pipelines segment operates common carrier and contract crude oil, natural gas liquids (NGL), and refined products pipelines and terminals. The Gas Transmission and Midstream segment owns interests in natural gas pipelines, and gathering and processing facilities. The Gas Distribution segment is involved in natural gas utility operations serving residential, commercial, and industrial customers in Ontario, as well as in Quebec and New Brunswick. The Green Power and Transmission segment operates renewable energy assets, such as wind, solar, geothermal, and waste heat recovery facilities; and transmission facilities in the provinces of Alberta, Ontario, and Quebec, Canada; and in Colorado, Texas, Indiana, and West Virginia, the United States. The Energy Services segment provides energy marketing services to refiners, producers, and other customers; transportation, storage, supply management, and product exchange services; crude oil, natural gas, NGL, and power marketing services; and physical commodity marketing and logistical services. The company was formerly known as IPL Energy Inc. and changed its name to Enbridge Inc. in October 1998. Enbridge Inc. was founded in 1949 and is headquartered in Calgary, Canada.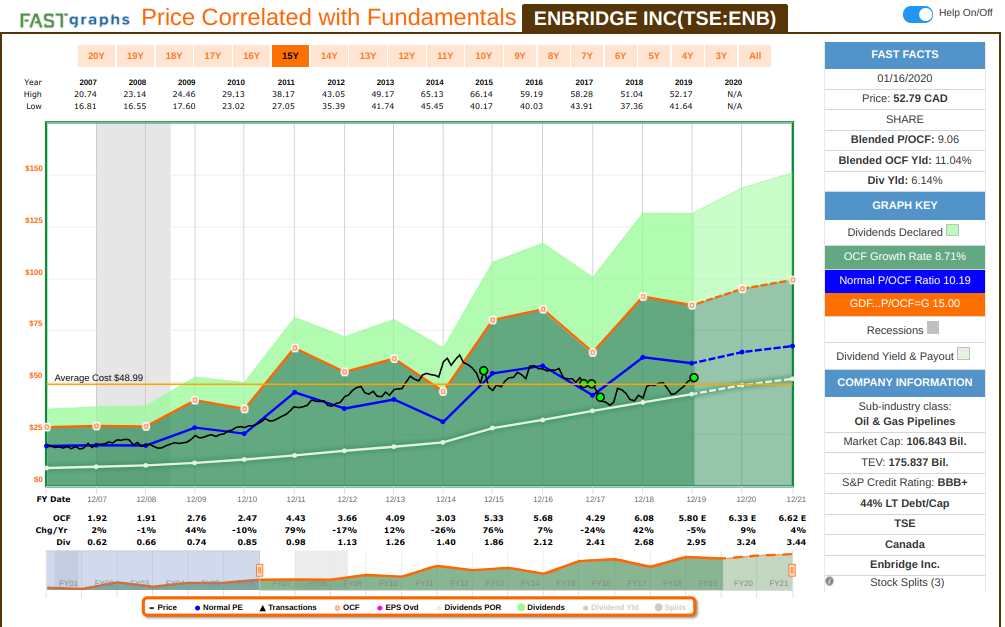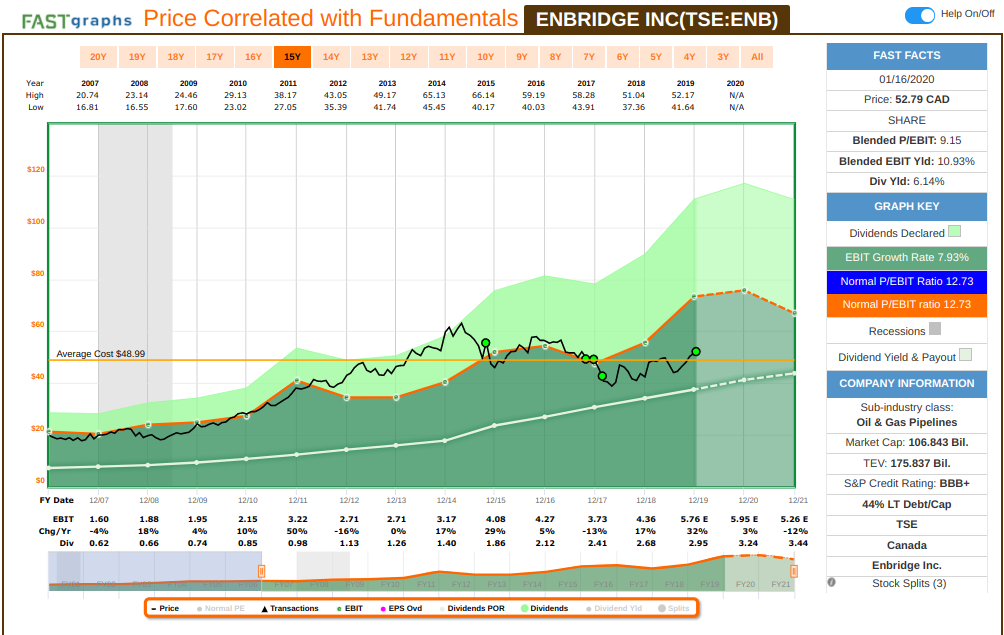 Gildan Activewear Inc. manufactures and sells a range of apparel products in North America, Europe, the Asia-Pacific, and Latin America. The company manufactures and markets active wear products, including T-shirts, fleece tops and bottoms, and sport shirts under Gildan, Gildan Performance, Gildan Platinum, Gildan Hammer, Comfort Colors, American Apparel, Anvil, Alstyle, and Gold Toe brands. It also offers athletic, dress, casual, workwear, liner, and therapeutic socks, as well as sheer panty hose, tights, and leggings under the Gildan, Gildan Platinum, Under Armour, Gold Toe, PowerSox, GT a Gold Toe Brand, Silver Toe, Signature Gold by Goldtoe, Peds, MediPeds, Kushyfoot, Therapy Plus, All Pro, Secret, Silks, Secret Silky, and American Apparel brand names. In addition, the company provides men's and boys' top and bottom underwear, and ladies panties under Gildan, Gildan Platinum, and American Apparel brand names; and ladies shapewear, intimates, and accessories under Secret, Secret Silky, and American Apparel brand names, as well as other products, such as denim, jackets, sweaters, bodysuits, skirts, dresses, and accessories. It offers its products through wholesale distributors, screen printers/embellishers, and retailers, as well as through its e-commerce platforms. The company was formerly known as Textiles Gildan Inc. and changed its name to Gildan Activewear Inc. in March 1995. Gildan Activewear Inc. was incorporated in 1984 and is headquartered in Montreal, Canada.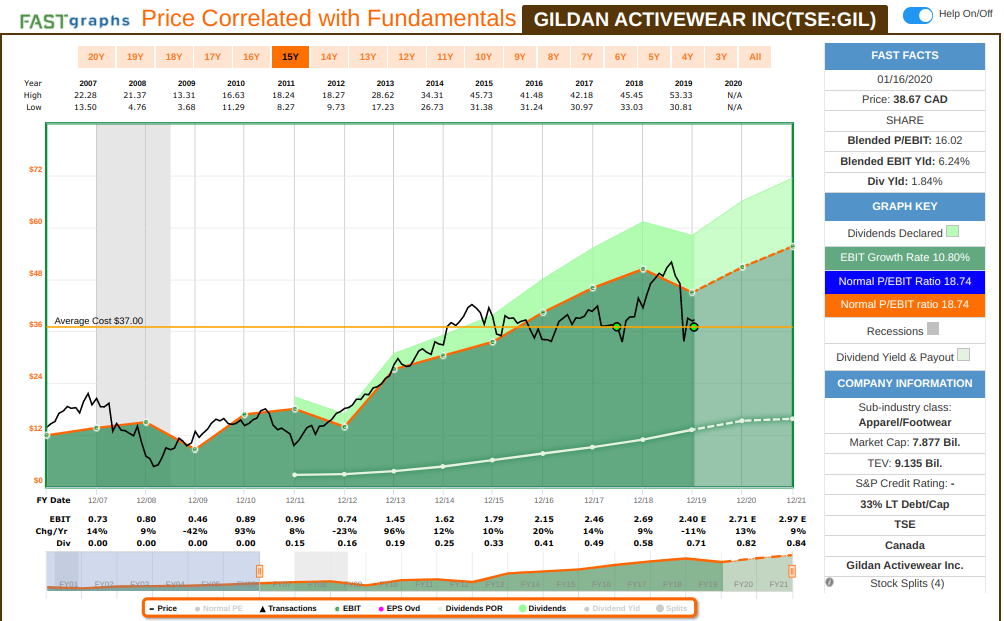 Keyera Corp. engages in the transportation, storage, and marketing of natural gas liquids (NGLs) and iso-octane in Canada and the United States. The company's Gathering and Processing business units operates a network of approximately 4,000 kilometers of pipelines and 17 natural gas processing plants located in the natural gas production areas primarily on the western side of the Western Canada Sedimentary Basin. This unit also provides natural gas gathering and processing, including liquids extraction services to customers. Its Liquids business unit is involved in the marketing of NGLs, such as propane, butane, condensate, sulphur, and iso-octane, as well as various crude oil midstream activities, as well as liquids blending. This units also provides fractionation, storage, transportation, and terminalling services for NGLs and crude oil; and processing services related to iso-octane through a network of facilities that include underground NGL storage caverns, NGL fractionation facilities, and NGL and crude oil pipelines, as well as rail and truck terminals and the Alberta EnviroFuels facility. It also produces iso-octane. The company was formerly known as Keyera Facilities Income Fund and changed its name to Keyera Corp. in January 2011. Keyera Corp. was founded in 1998 and is headquartered in Calgary, Canada.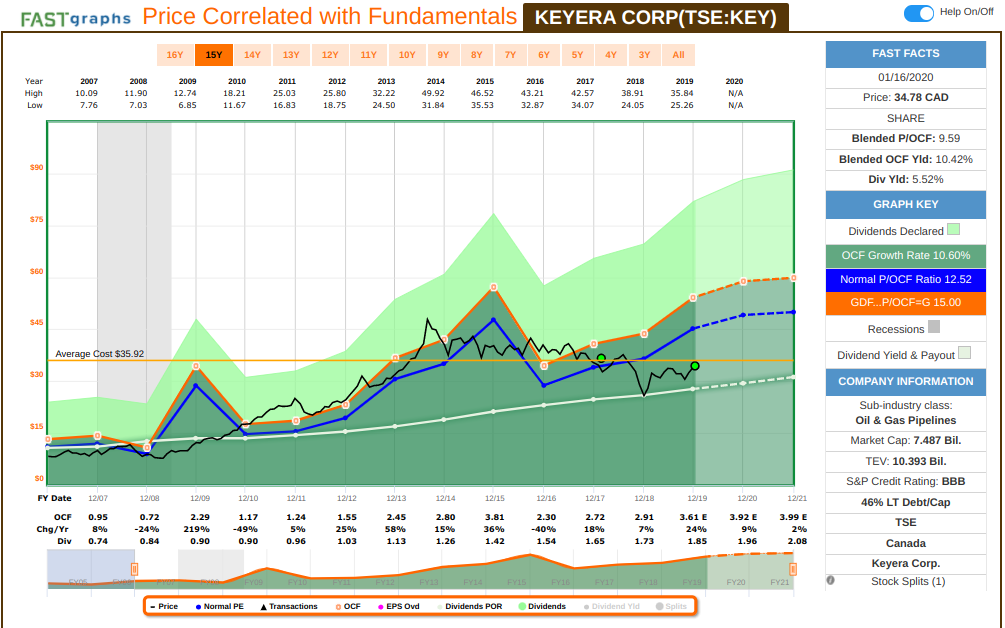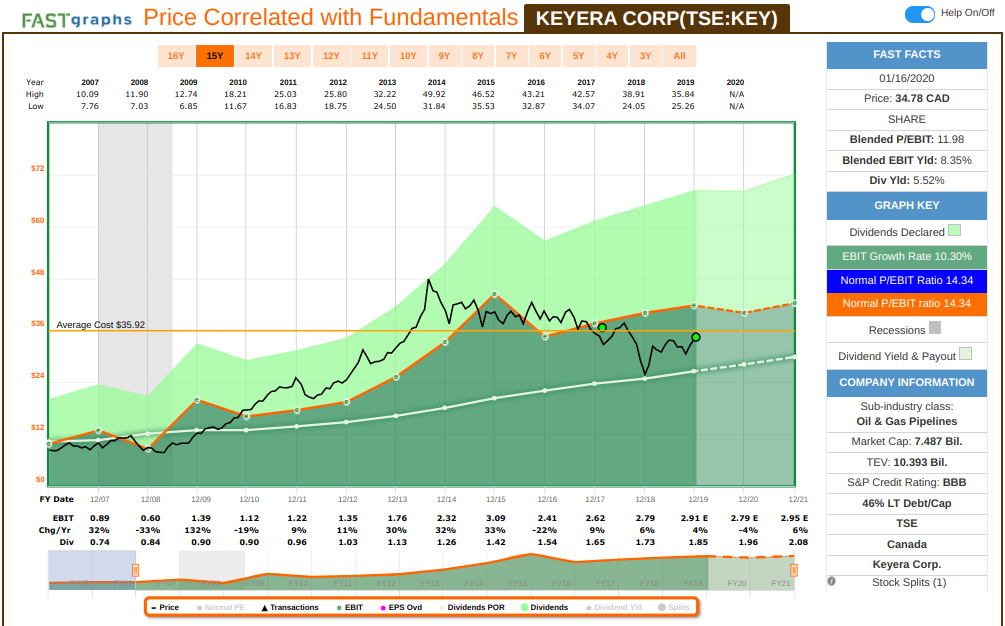 Magna International Inc. designs, develops, and manufactures automotive systems, assemblies, modules, and components in North America, Europe, Asia Pacific, and internationally. The Body Exteriors & Structures segment provides body structures; chassis structures, such as frame and structural assemblies, chassis subframes, and suspension systems; exterior systems and modules, including hoods, roofs, door panels, front end modules, liftgate modules, polycarbonate roof panels, liftgate sensor integration systems, and fascia; trim and automotive jewelry comprises engineered glass, trim and roof racks, and running boards; non-visible and visible active grille shutters, active air deflectors, and underbody panels; and fuel systems, pipes and components, and alternative energy storage systems. Its Power & Vision segment offers manual, hybrid, and dual-clutch transmissions systems; mild hybrid solutions; high voltage edrives and electrified components; chassis, glow plug control, powertrain control, and mechatronic control modules; four-wheel drive, all-wheel drive, and disconnect systems; thermal management and lubrication systems; transmission clutch/carrier components, precision stampings and shafts, and automated driving systems; latching systems, door modules, power closures, hinges and wireforming, and handles; interior and exterior mirrors, and actuators; and front and rear lighting, tail lamps, and other lighting products. The Seating Systems segment provides recliners, manual and power adjusters, and seat structures. Its Complete Vehicles segment offers modular solutions for system and parts, as well as complete vehicle manufacturing services. The company serves original equipment manufacturer and non-automotive customers, as well as tier 1 companies, and medium and heavy truck manufacturers. Magna International Inc. was founded in 1957 and is based in Aurora, Canada.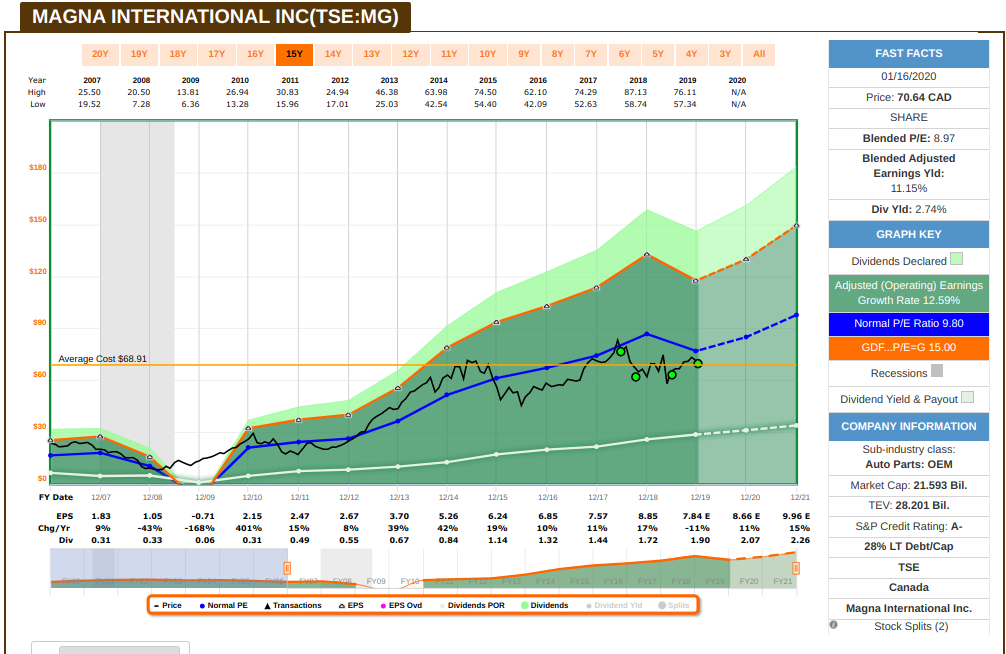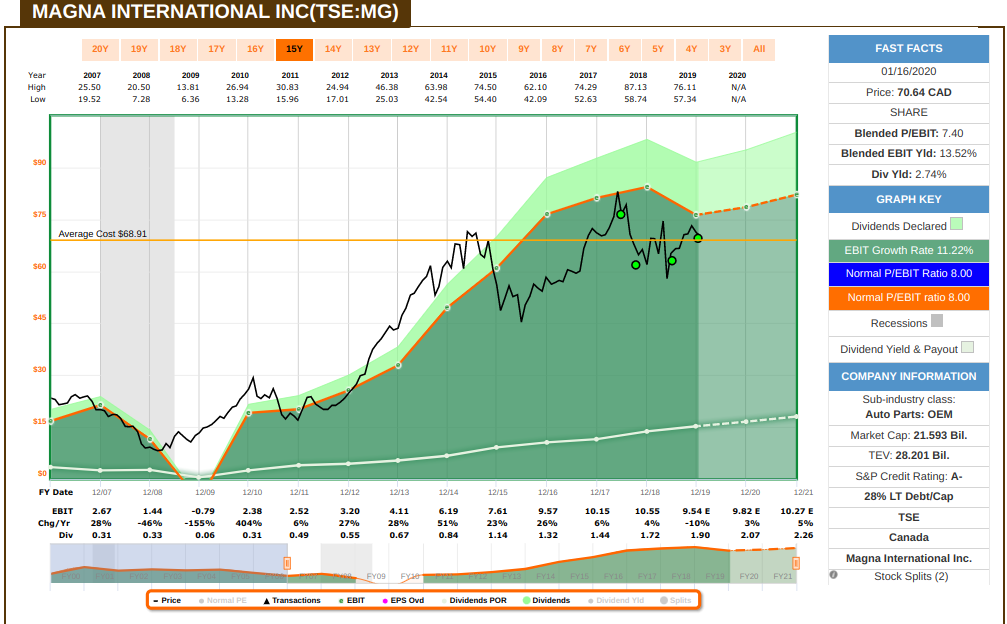 MTY Food Group Inc. operates as a franchisor in the quick service and casual dining food industry in Canada, the United States, and internationally. The company franchises and operates corporate-owned locations in the quick service restaurant and casual dining segments of the restaurant industry; and sells retail products under a multitude of banners. It also operates a distribution center and a food processing plant. As of November 30, 2018, the company had 5,984 locations comprising 5,919 franchised and 65 company operated locations. The company was formerly known as iNsu Innovations Group Inc. and changed its name to MTY Food Group Inc. in July 2003. MTY Food Group Inc. was founded in 1979 and is headquartered in Saint-Laurent, Canada.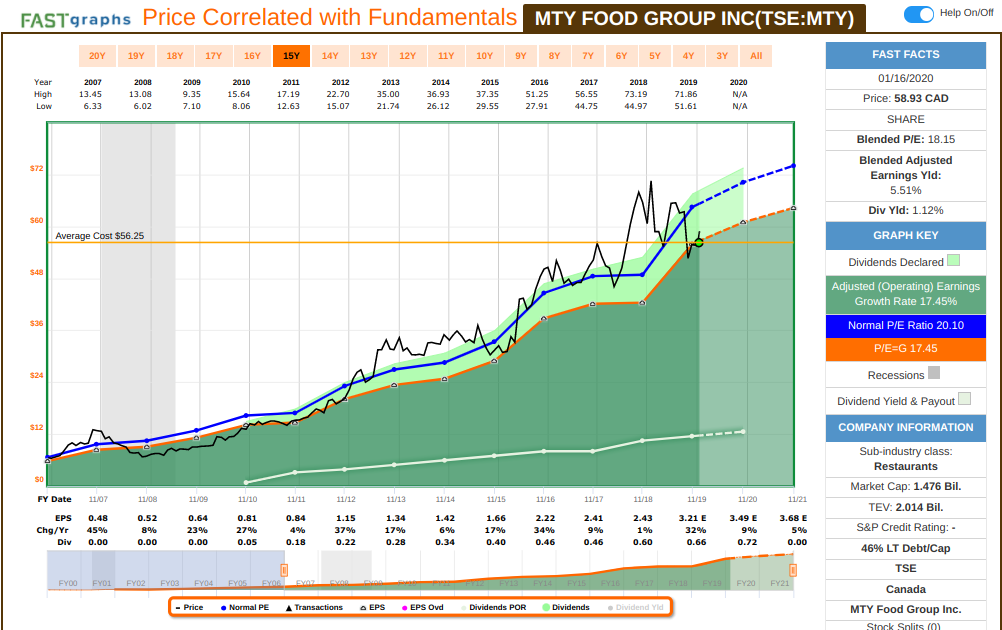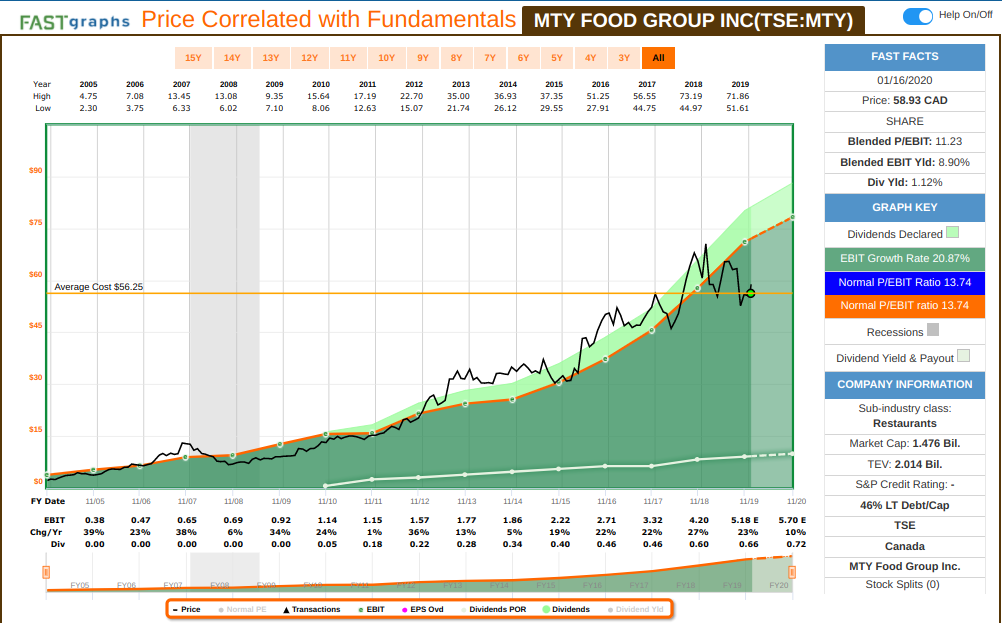 Open Text Corporation provides a suite of software products and services. The company offers content services; business network, a cloud-based platform that facilitates collaboration and exchange of information inside and outside of organizations; artificial intelligence and analytics solutions; and OpenText EIM platform that provides multi-level, multi-role, and multi context security information platforms. It also provides digital process automation, which enables organizations to transform into digital data-driven businesses through automation; Customer Experience Management, a set of processes used to track customer interactions throughout the customer journey; and Discovery suite that provides forensics and unstructured data analytics for searching, collecting, and investigating enterprise data to manage legal obligations and risk. In addition, the company offers customer support programs that include access to software upgrades, a knowledge base, discussions, product information, and an online mechanism to post and review trouble tickets. Further, it provides professional services, such as consulting and learning services relating to the implementation, training, and integration of its licensed product offerings into the customers' systems, as well as cloud services. The company serves organizations, enterprise companies, mid-market companies, and public sector agencies worldwide. It has strategic partnerships with SAP SE, Microsoft Corporation, Oracle Corporation, Salesforce.com Corporation, Accenture plc, Deloitte Consulting LLP, Tata Consultancy Services, ATOS, and Ernst & Young. The company was founded in 1991 and is headquartered in Waterloo, Canada.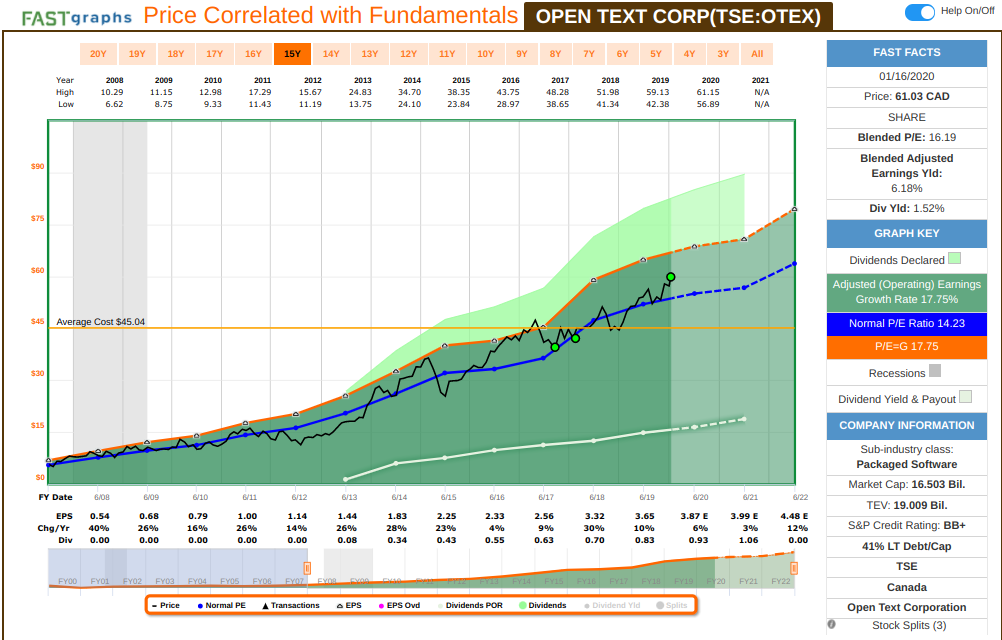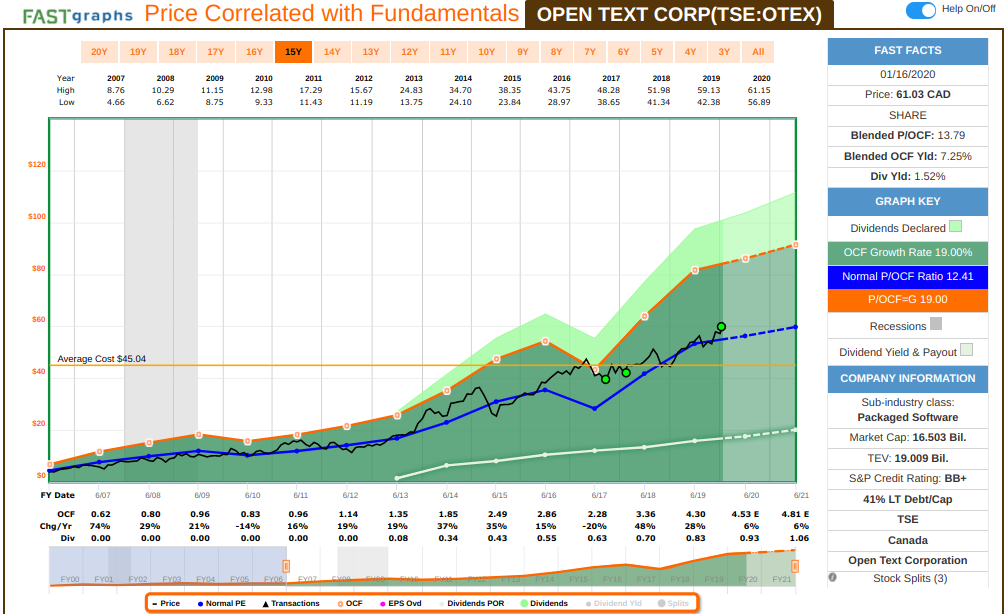 Pembina Pipeline Corporation provides transportation and midstream services for the energy industry in North America. It operates through three divisions: Pipelines, Facilities, and Marketing & New Ventures. The Pipelines division operates conventional, transmission, and oil sands and heavy oil pipeline assets with a total capacity of 3 million barrels of oil serving markets and basins across North America through conventional, transmission, and oil sand pipelines assets. The Facilities division offers processing and fraction facilities, and other infrastructure related services to provide customers with natural gas and natural gas liquid services, as well as natural gas liquids fractionation, cavern storage, and loading and off-loading facilities. The Marketing & New Ventures division buys and sells hydrocarbon liquids and natural gas originating in the Western Canadian sedimentary basin and other basins. Pembina Pipeline Corporation was founded in 1997 and is headquartered in Calgary, Canada.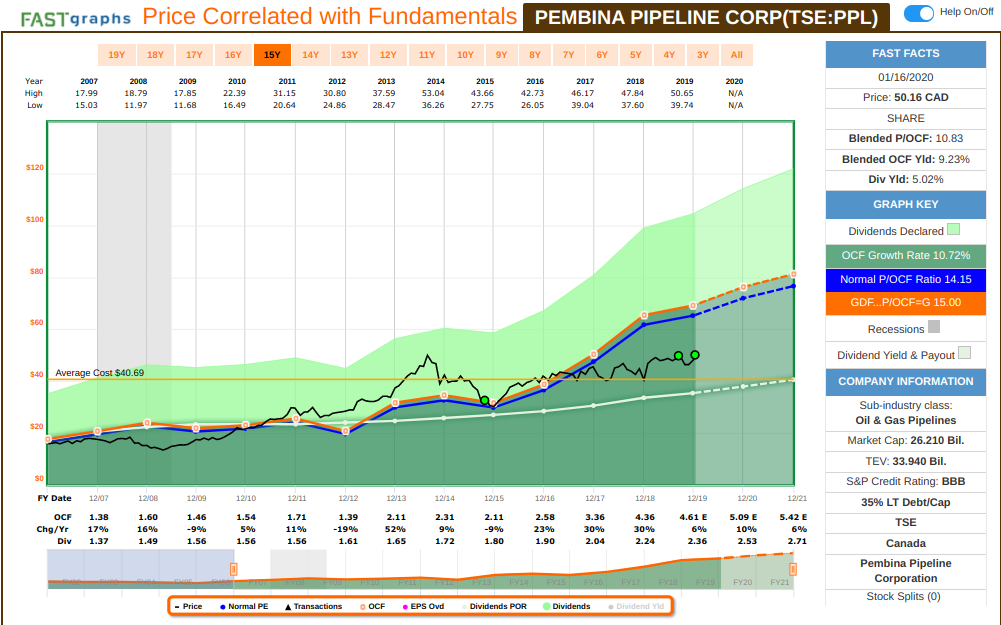 Shaw Communications Inc. operates as a connectivity company in North America. The company operates through Wireline and Wireless segments. The Wireline segment provides broadband Internet, Shaw Go Wi-Fi, video, and digital phone services to residential customers; and Internet, data, Wi-Fi, digital phone, and video services to business customers. The Wireless segment provides wireless voice and data communications services. The company was formerly known as Shaw Cablesystems Ltd. and changed its name to Shaw Communications Inc. in May 1993. Shaw Communications Inc. was founded in 1966 and is headquartered in Calgary, Canada.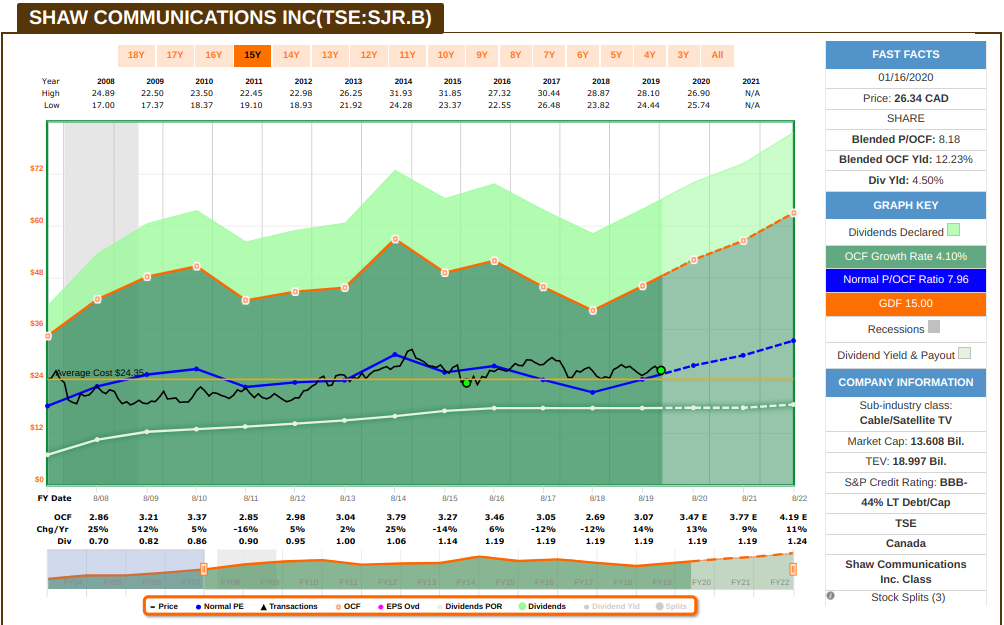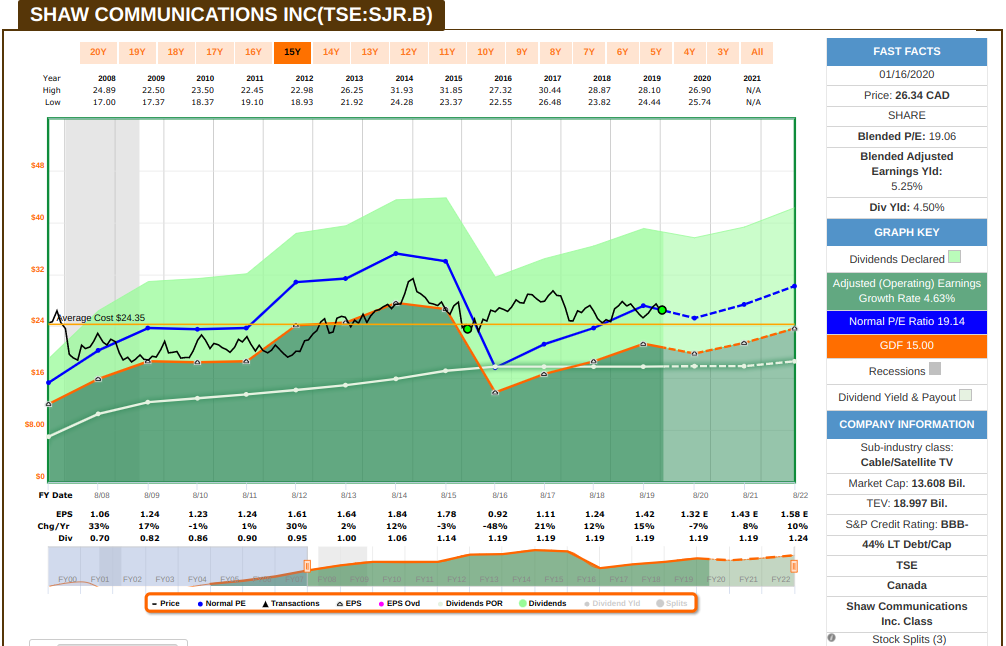 The Toronto-Dominion Bank, together with its subsidiaries, provides various personal and commercial banking products and services in Canada and the United States. The company operates through three segments: Canadian Retail, U.S. Retail, and Wholesale Banking. It offers personal deposits, such as checking, savings, and investment products; financing, investment, cash management, international trade, and day-to-day banking services to businesses; financing options to customers at point of sale for automotive and recreational vehicle purchases through auto dealer network; credit cards; investing, advice-based, and asset management services to retail and institutional clients; and property and casualty insurance, as well as life and health insurance products. The company also provides capital markets, and corporate and investment banking services, including underwriting and distribution of new debt and equity issues; providing advice on strategic acquisitions and divestitures; and trading, funding, and investment services to companies, governments, and institutions, as well as automated teller machines, telephone, Internet, and mobile banking services. It offers its products and services under the TD Bank, America's Most Convenient Bank, and TD Ameritrade brand names. The company offers personal and business banking products and services through a network of 1,091 branches and 3,509 automated teller machines in Canada; and through a network of 1,241 stores. The Toronto-Dominion Bank was founded in 1855 and is headquartered in Toronto, Canada.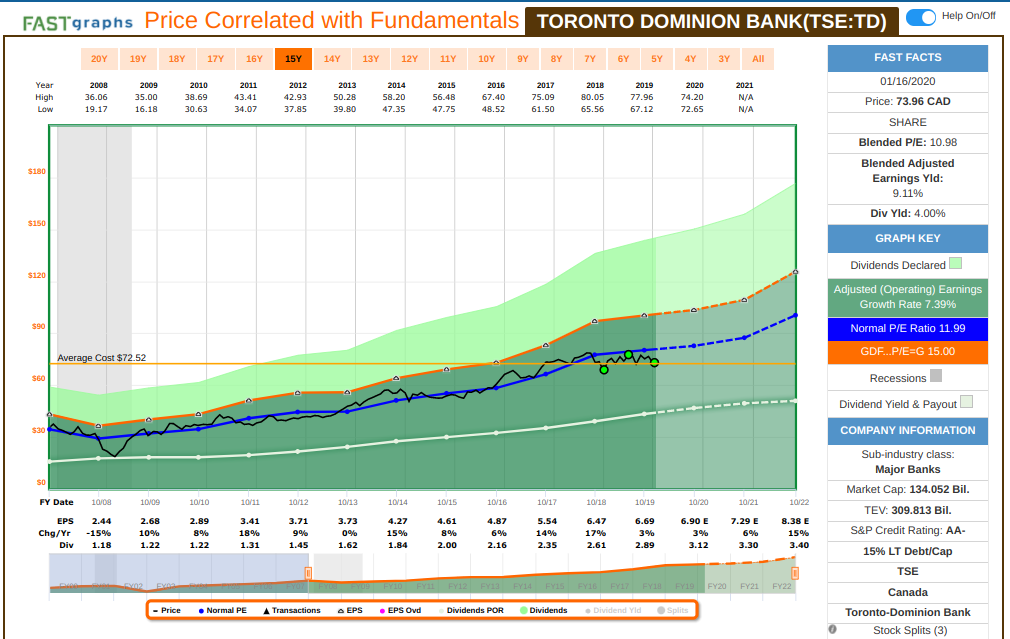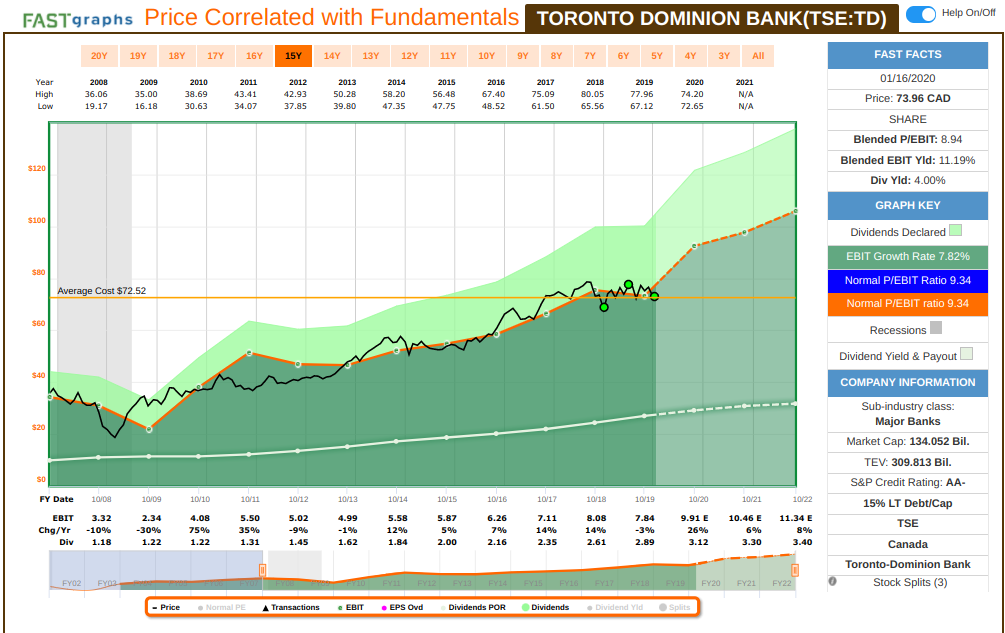 Please let me know if you have any questions or comments!
Happy Investing!!