The market as a whole might be overvalued, but the beauty of value investing is that there are always bargains to be found (individual companies trading below or at fair valuation). Quality and valuation are 2 important drivers of return: a quality business will continue to grow earnings and cash flow, regardless of macro factors such as economic conditions and politics. And when that quality business is acquired at a fair valuation, its stock price performance, in the long run, will be proportional as the business operating performance. 
Once a year I review my watchlist, which contains the companies that meet my quality criteria. Different companies present different risk profiles, but they all have in common a proven tracking record of growing earnings and cash flow, and quality management that knows how to react and adapt during challenging conditions. Some companies that have such great history might get adversely affected in the future, but that's why I monitor the operating results of the business to ensure that fundamentals are still aligned to my goals, and why I have a diversified portfolio. 
I typically allocate C$2,000 per month to add to my dividend growth companies, and since my last purchase was in July, this gives me C$4,000 to invest, which has been tracked on the Investing Performance section. Furthermore, I am cashing out Westjet ($1,959), since this month's ex-dividend date just passed and I don't expect price to move after the announced acquisition, so I will deploy that capital to other companies. That gives me a total of $5,959 to invest on Canadian companies this month.
I have purchased the following companies, which I believe are fairly valued (or undervalued) and estimated to grow:
My first purchase is Canadian Pacific Railway Ltd. (CP.TO), adding to my existing positions: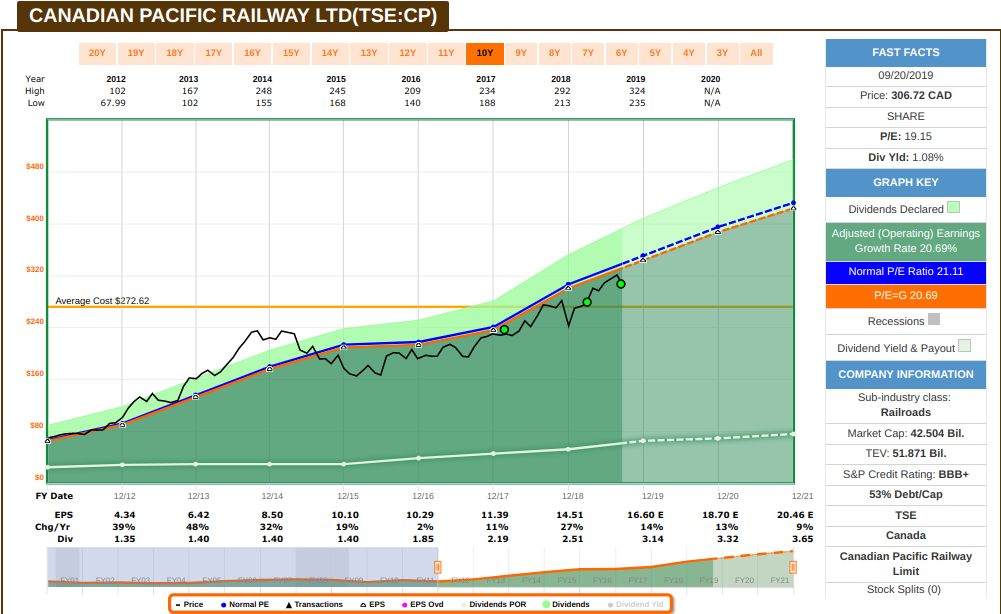 CP had one of their best quarters in a long time, revenue up 13%, and operating ratio improved to a second-quarter record 58.4%., reiterating their view that is more cost efficient to transport (where there's no waterway alternative), and the margin is even better for freight with low value per unit weight. CP anticipates growth on multiple fronts, including refined fuels in the Eastern market, new business with short lines (already year to date $35 million annualized business won), Yang Ming container contract in 2020, new auto opportunities coming on line, and K+S potash to remain strong in 2019 and expecting to grow in 2020. Management considers the magnitude will be mid-single digits in terms of revenue per ton-mile growth, resulting in double-digit earnings growth.
My second purchase is Canadian Western Bank (CWB.TO), adding to my existing positions: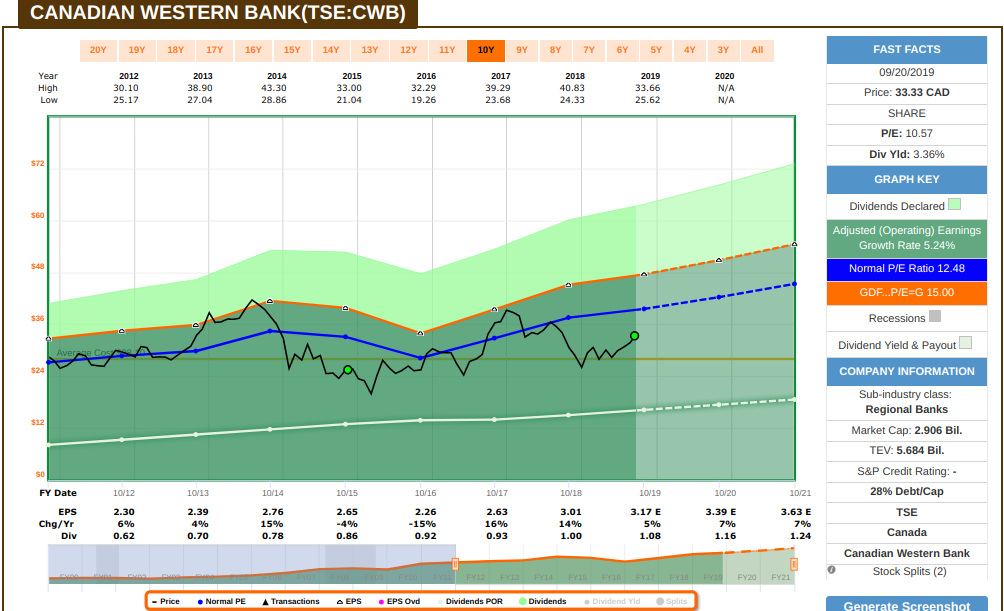 CWB is estimated to grow earnings by mid-single digits, while the stock is trading below historical multiples, providing a reasonable initial yield (and CWB is estimated to continue growing their dividends). CWB beat earnings estimates last quarter as the bank reported good volume on loan growth (including a new record for quarterly loan originations) and Motive deposits more than double so far this year, making a good  progress on their strategic transformation, but management reminded of trade related headwinds and potential lower top line with future rate cuts. CWB reported lower loan loss provisions (2% YoY), reflecting a total loss ratio of 0.19% compared to 0.23% last quarter. On a year-to-date basis net interest income was up 9%. CWB plans to take the mid-market commercial growth bank that they had in Western Canada and import it to Ontario, as they will open their first full-service branch in Mississauga next year, so that should trigger several opportunities.
My third purchase is Dollarama Inc (DOL.TO).  starting a new position: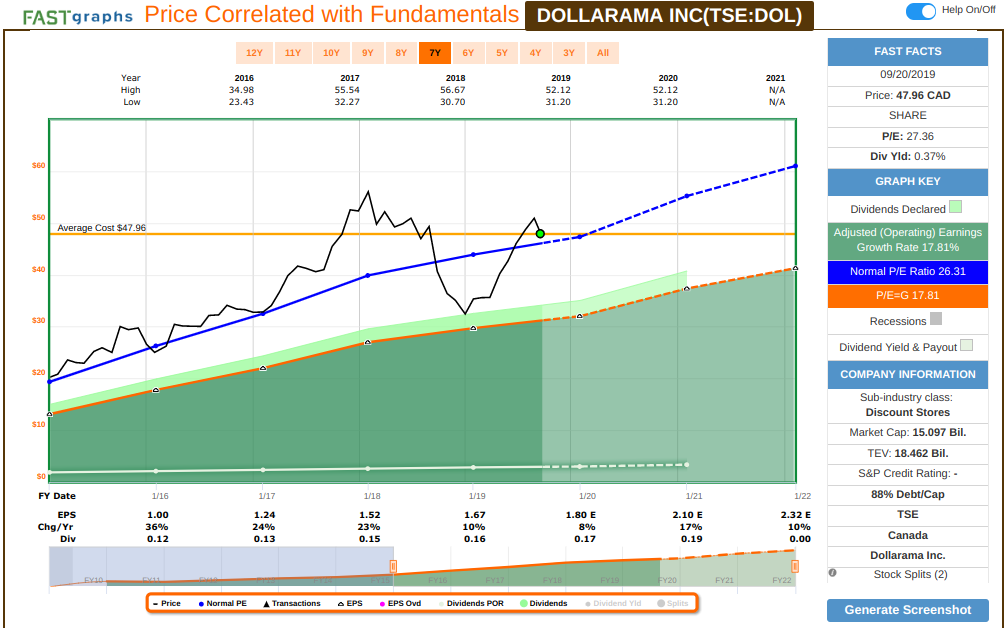 Dollarama has been trading at an earnings multiple premium of 26.31 in the last 5 years, with an operating earnings growth around ~17; since it's estimated to grow earnings by 17% in FY20, I am considering current price to be fairly valued. DOL has a low risk operating model with store payback of approximately 2 years. They reported good results last quarter (same store sales growth of 4.7% last quarter), but the most significant pressure in the short-term is limited inflation which restricts the ability to increase prices. However, straightforward distribution model provides opportunity for productivity gains. Systems changes / enhancements will continue to improve store labour productivity, reduce shrink and help optimize the product mix. Management expects margin to decline, while they focus on the top-line growth to remain competitive. DOL opened 14 net new stores in Q2 and remain on track to meet their target of 60 to 70 net new stores for FY20. Their distribution center expansion project is almost completed and remains on time and on budget, on track for DOL's long-term growth plan of 1700 stores across Canada by 2027.  DOL also recently acquired Dollarcity, giving them exposure to Central America and South America. Same store sales guidance improved to a range of 3.5% to 4.5% while guidance range on gross margin as a percentage of sales was lowered to a range of 43.25% to 43.75%.
My fourth purchase is Pembina Pipeline Corp (PPL.TO), adding to my existing position: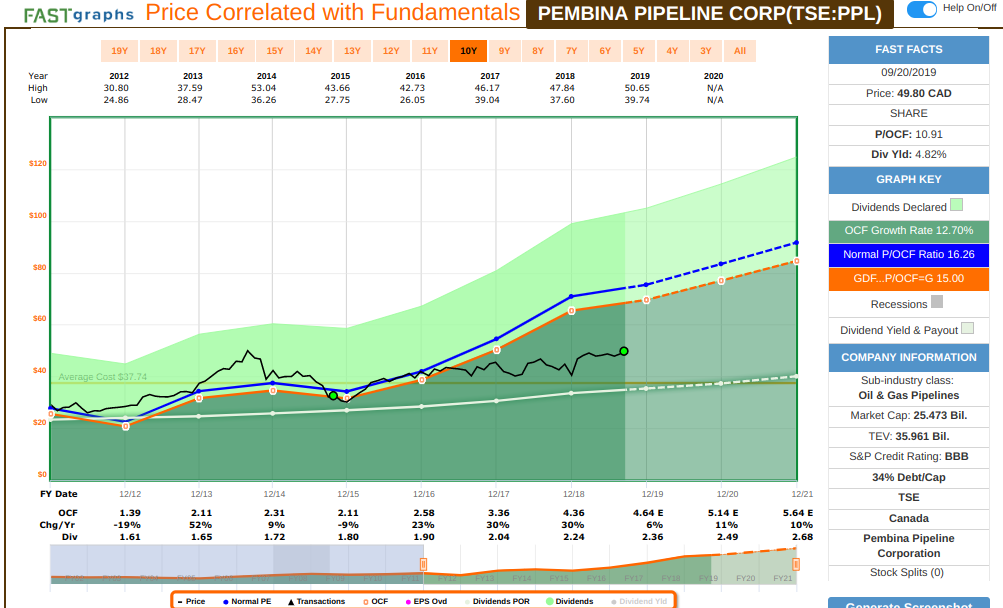 Pembina announced last month that it will be acquiring KML and the US portion of the Cochin pipeline. Both transactions are estimated to provide 1.3% AFFO per share accretion in 2020. The acquisition is strategic because merchant storage can provide optionality to the crude oil marketing business and contracted storage adds long-term contracted cash flow. Pembina's above-ground storage capacity increases ten-fold with this acquisition. The Cochin pipeline imports condensate from the US under a take-or-pay contracts that expire in 2024, and it provides interesting optionality in the event the contracts are not extended (the pipeline previously exported propane from Edmonton). To fund this acquisition, KML would be paid by share exchange (0.3068 PPL shares for each KML share), and the Cochin pipeline would be acquired for cash, with a new $1B term acquisition facility expected to be repaid with the issuance of medium-term notes. The transaction is estimated to close in early to mid 2020, and if successful, Pembina plans a $0.01 per share dividend increase (about 5%). Last quarter results were very strong (beat on earnings and revenue), and management confirm that Pembina remains on track to meet their adjusted EBITDA guidance range of $2.85 billion to $3.05 billion.
My fifth purchase is Imperial Oil Ltd (IMO.TO), initiating a new position.
IMO's operating cash flow (red line in the graph is dividend yield):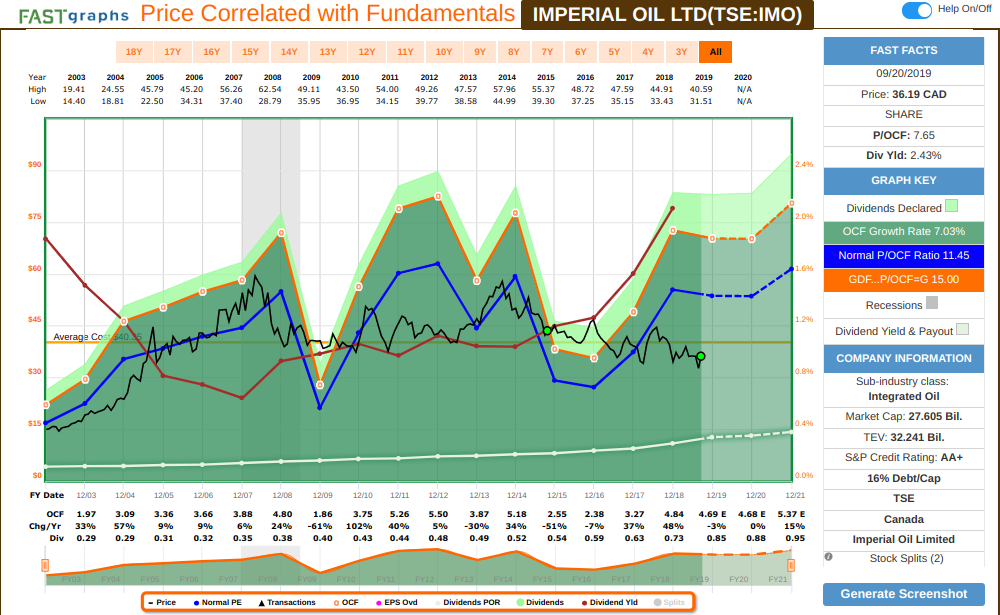 IMO's earnings (red line in the graph is dividend yield):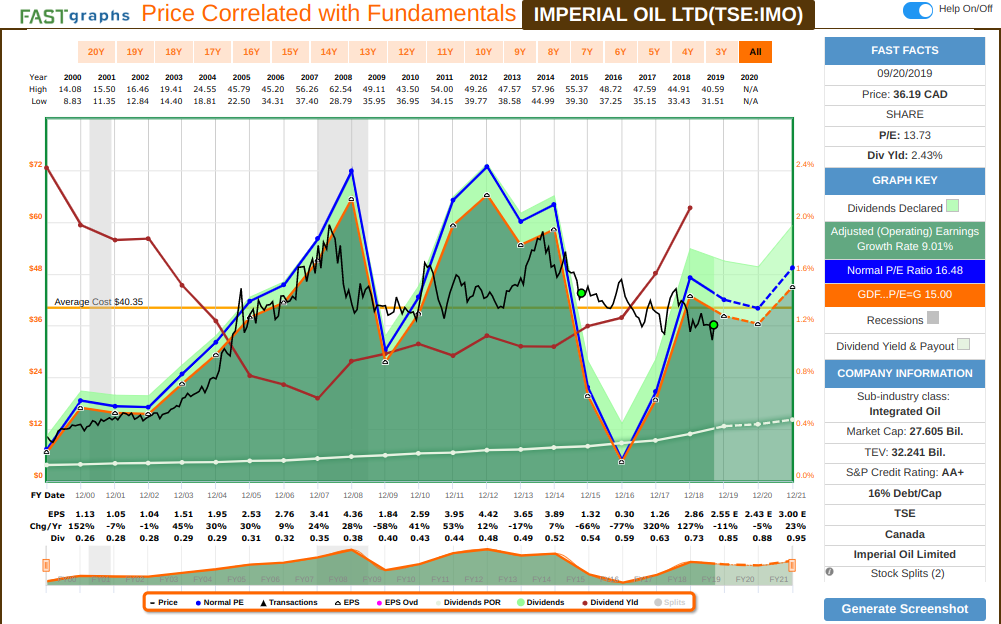 Although IMO's earnings and cash flow are very cyclical, we can see that dividends are safe when looking at the cash flow chart. For this type of company, I like to measure valuation based on dividend yield – and considering that dividend present yield is at levels from many years ago, I believe it's at a good value, not only locking an initial yield, but also paving the way to compound further as it keeps increasing annually. Although lower oil prices remain a challenge, IMO's integrated operations provide stable operating cash flow (from downstream operations),  limiting the impact of oil price volatility and supporting its dedication to dividend growth. Furthermore, IMO maintains a strong balance sheet (paramount in this kind of industry), reducing insolvency fears that plague pure-play oil sands peers. An executive change has been announced recently (the current CEO is retiring and they announced a replacement), but management maintained their position of a strong balance sheet with reasonable financial leverage. IMO's last quarter results were strong (beat earnings and revenue) and they reported $2 billion in cash generated from operating activities in the first half of the year, the highest volume for such period since 2014, and a strong balance sheet, with 70% debt to capital ratio at the end of the quarter and $1.1 billion in cash. I believe that at present valuation, IMO offers an opportunity to lock a reasonable initial yield that is estimated to continue to grow, as they continue to react and adapt to market conditions to keep shareholders interest first.
My sixth purchase is Rogers Communications Inc (RCI.B), adding to my exiting position.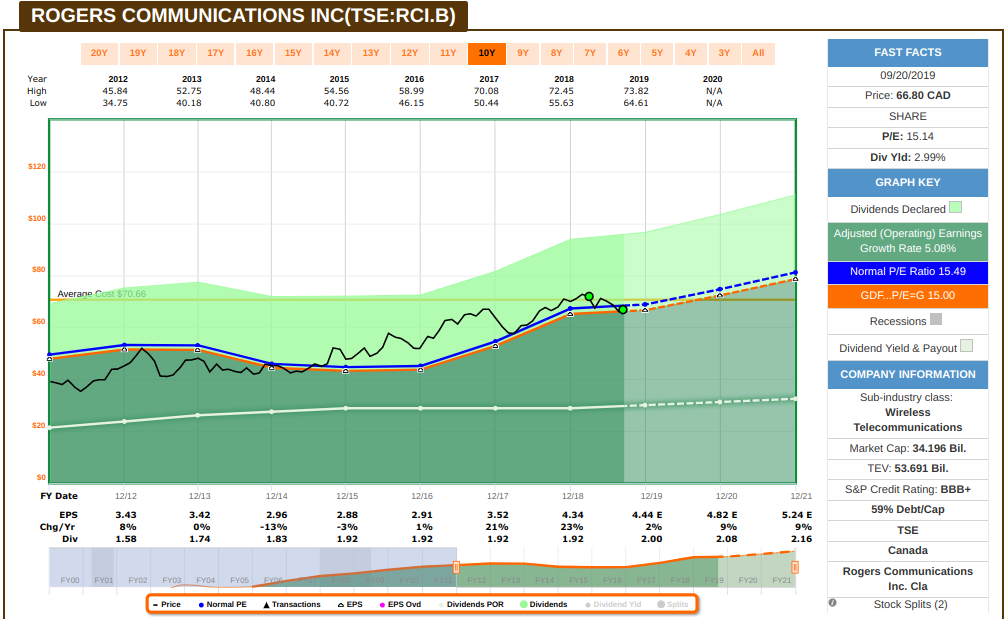 Latest results were in line and management reiterated its original guidance targeting EBITDA growth of 7% to 9% Y/Y (includes boost from adopting IFRS16 since Q1). RCI.B created a 5G innovation lab with Communitech in Waterloo and completed their first successful 5G test calls in Branson, Toronto and Vancouver. Cable and strategic initiatives like IgniteTV continues to advance, they are on track to reach their our subscriber target for the full year. Rogers added 77,000 postpaid net subscribers and 22,000 net internet subscribers (6th consecutive quarter of increasing internet penetration rates). They continued to post good progress on CapEx reduction and margin expansion, and remain on track for their goal of 25% cash margin by the end of 2021.
Just some ideas to keep building a portfolio, one business at a time. On the next post I'll cover my purchase of US companies stocks, following the same principle regarding quality and valuation, to build a portfolio that will provide a perpetual stream of growing income.
If you have any questions or want to share any thoughts, please post it on the comment section below.